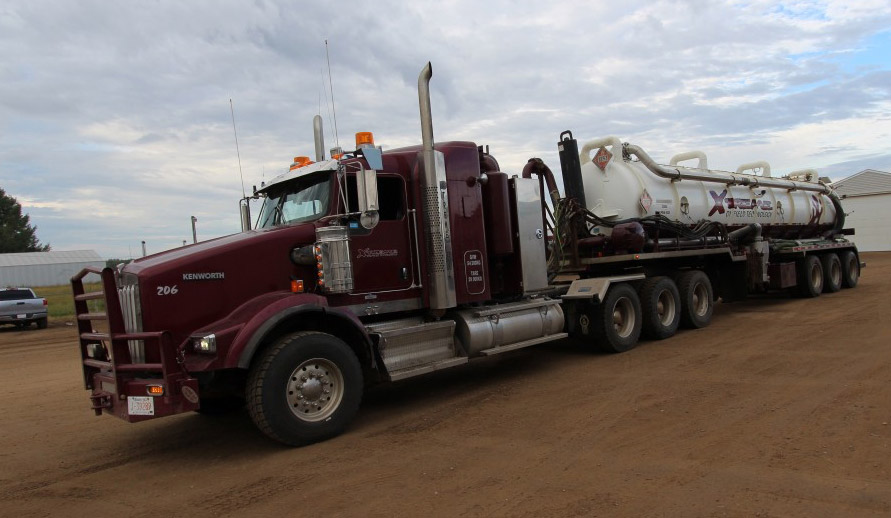 Vacuum Trucks
Xtreme Oilfield Services owns and operates a robust fleet of Vacuum Trucks, enabling us to deliver a full range of vacuum truck services to all types of industrial operations. Our vacuum truck fleet includes both tandem and tri-drive units, as well as tandem or tri-drive tri-axle trailer units. All of our trucks are equipped with full code TC407 tanks, ensuring the safe transport of toxic, corrosive, and flammable liquids over any type of road or highway in Canada.
Western Canada's Vacuum Truck Company
Vac Trucks & Services Across BC, Alberta & Saskatchewan, Canada
We have the best equipment available on the market and the most experienced, well-trained service professionals of any vacuum truck service provider in Alberta. Xtreme Oilfield's fleet of vacuum trucks vary in design so that you can count on us to perform a wide range of complex services to meet the needs of your specific oilfield service or industrial business. Our trucks are totally at home in the toughest, most unforgiving conditions, just like our amazing operators, who take on any job no matter how challenging. Our team of vac experts will arrive at your site and pump or pick up your unwanted liquids, solids, or sludge from almost anywhere, including sumps, trenches, pits, floor drains, and even waste tanks. We'll then safely transport and dispose of your waste in a manner that is safe, compliant, and conscious of environmental concerns.
Our Quality Service, Trucks, and Equipment Set Us Apart
Xtreme Oilfield was built on the foundation of delivering superior customer service to each and every one of our valued clients. Our vac truck service professionals are trained through a rigorous safety program that ensures they are able to deliver expert cleaning service that is unmatched in the industry. We provide regularly scheduled service that is predictable and stable— as well as emergency cleaning services for the unexpected occurrences that are commonplace in the oilfields of Alberta. Regardless of the project circumstances, you can rest assured that everything is handled professionally. Additionally, your waste will always be disposed of in a manner that is compliant with all local regulations and government cleaning standards. Let Xtreme Oilfield inspect and perform cleaning service of your separator, pit, drain, sump, or other location today so that you can safely remove hazardous liquids, solids, sewage, or sludge from your site.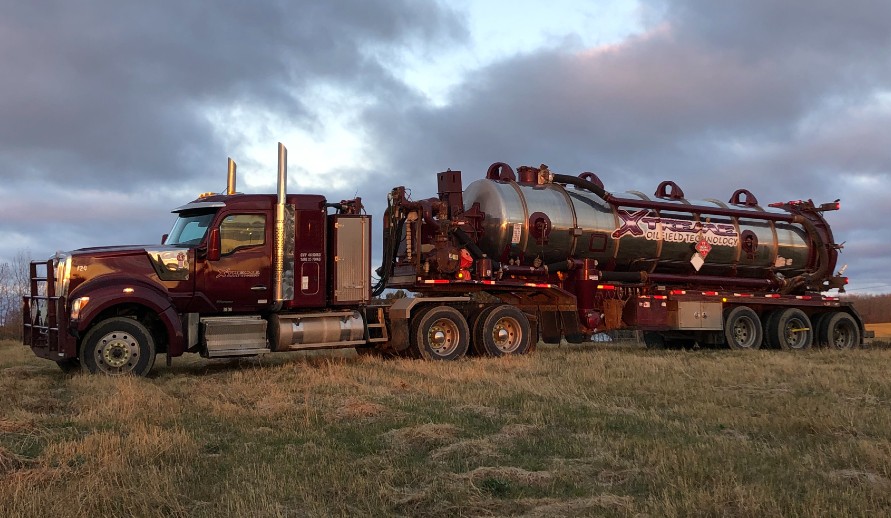 We offer the following Vacuum Truck
Services:
Drilling mud disposal
Desanding production tanks
Plant turnarounds
Fluid transfers
Spill cleanups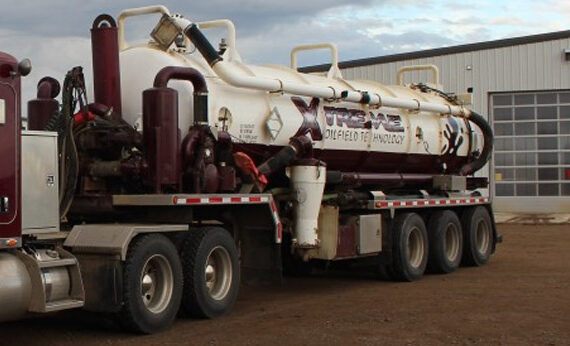 Vacuum Trailer Units:
Tandem drive c/w triaxle trailers or tri-drive c/w triaxle trailers
Full Code TC407 Tanks
1400 cfm blowers
Capacity 24m³ to 30m³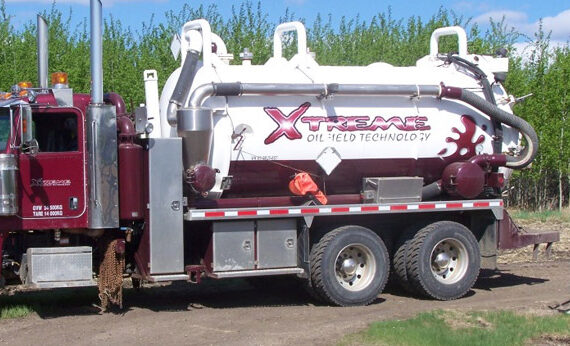 Vacuum Body Job Unit:
Tandem or tri drive unit
Capacity 10m³ to 15m³
1400 cfm blowers
Available with floater tires, air boss system, tank agitator, boom arm
Full Code TC407 Tanks
Also available with fully equipped, towable wellsite trailers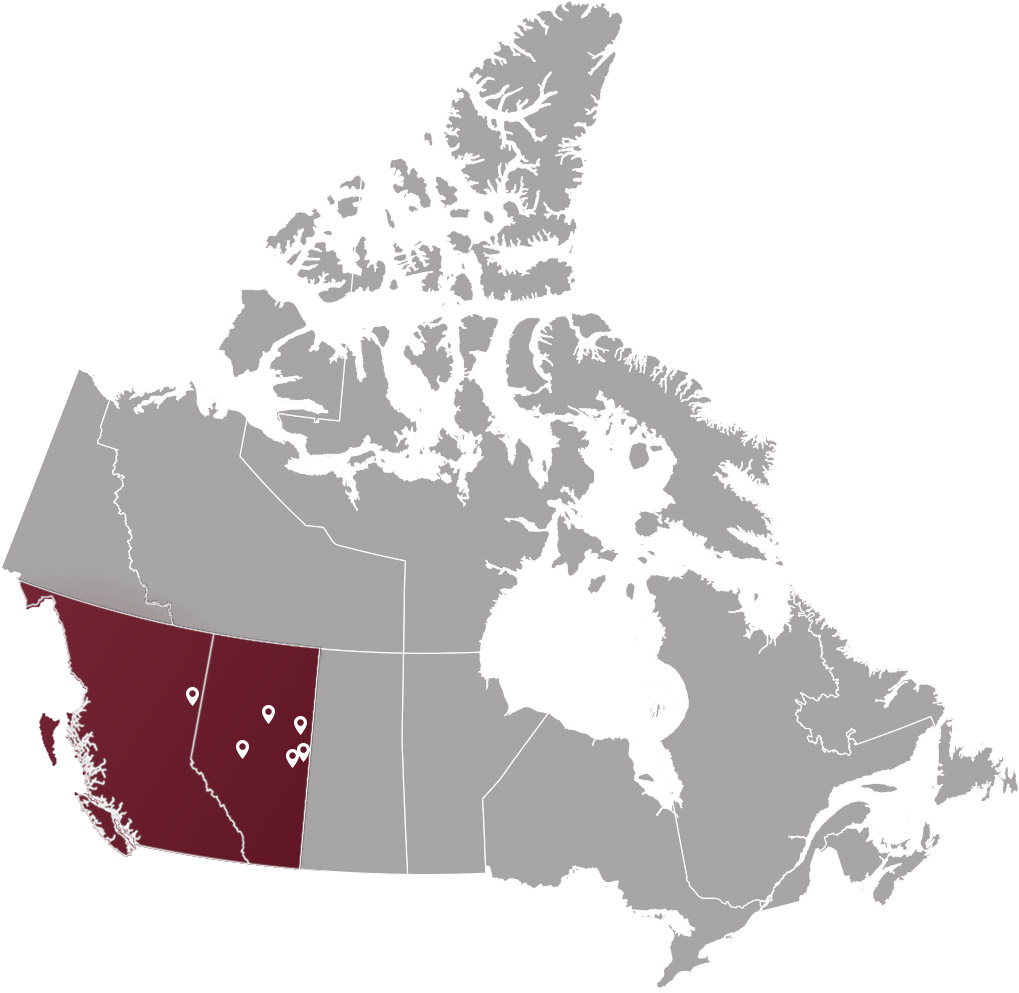 Xtreme Oilfield has grown from a small fleet of vac trucks based in Bonnyville, Alberta to multiple locations spanning across BC and Alberta. This expansion has allowed us to proudly say we are the largest trailer vac company in the industry, providing vacuum truck services in three western provinces, including BC, Alberta, and Saskatchewan.
ALBERTA & BRITISH COLUMBIA
From operations centres in St. Paul, Bonnyville, Conklin, Fort McMurray, Wabasca, Whitecourt, and Vermillion, Xtreme Oilfield has a well-established capacity to deliver vacuum truck services all across Alberta.
From our Fort St. John facility, we expedite all types of vacuum truck services to meet the growing needs of industrial operations in northeastern BC.
Frequently asked questions
CLICK BELOW TO REVEAL
COMMONLY ASKED QUESTIONS
ABOUT VACUUM TRUCKS