Safety commitment
Since our inception in 2000 we have been using both in house safety personnel and third party providers to develop and improve the safety program. We are members of the 4 industry leading employee safety programs Workplace Safety COR (Certificate of Recognition), ISNetworld, PICS Canada and ComplyWorks.
Xtreme Oilfield offers a large selection of safety services including plant turnaround, door pulls on storage tanks, spill cleanups, chemical washes, and confined space entries. All Xtreme Oilfield employees working within a confined space are trained and certified with their current confined space ticketing.
Certifications and associations
Xtreme Oilfield are proud to be members of the four industry-leading employee safety programs.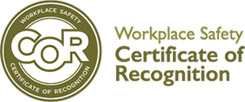 Education is key
Xtreme Oilfield also realizes to provide quality staff to the industry, we must provide quality training. Since the level of experience is so diverse in potential employees, we implemented a new policy to ensure all new employees are trained and successfully evaluated on use of equipment before entering the field.
Follow-up and feedback
Our Safety Team ensures we are following driver requirements, up to date certifications, and continue to build in a proactive approach to safety.
We conduct monthly safety meetings with employees to provide training, safety opportunities and report on occurrences in the field. We encourage employees to take ownership of their safety program by requesting input from them on all aspects of the safety program.