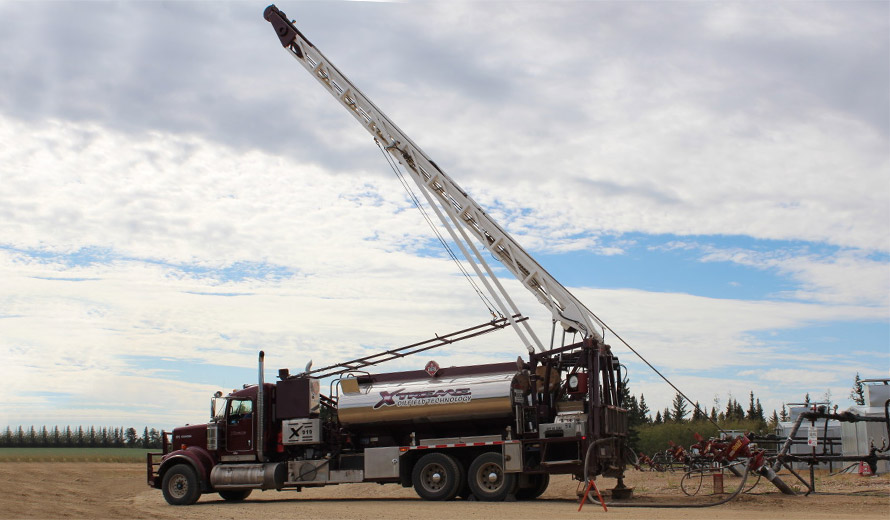 Flushby Units
Our flushby units are designed to be the safest and most technologically advanced units available. Our experienced crews are able to diagnose wells accurately and reliably. Whether it's vertical or slant wells, with mast lengths of up to 56 feet, we can handle the job.
We offer the following
Flushby services:
Production Flushes including sanded wells
Diagnose well issue including parted rods, worn pumps, pressure test,etc.
Drive head/seal/unit changes
Fishing Jobs: sucker/polish rods
Rod jobs
Work with coil tubing units
Well Abandonments
Flushby Unit
Specifications
Single steer, tandem drive with 43' mast
Tandem steer, Tri Drive with 56' mast
Fall arrest system
Automated Bear claws
Crown savers
Winch capacity 50,000 lbs
Mounted Picker capacity up to 2.3 tonnes
Transport position indicator for Derrick and Picker
Up to 12 m³ full code stainless steel tanks
Pumping pressure up to 5000 psi
All units capable of working on slant and vertical wells.
Additional Tools

On Each Truck
SCBA's and 4 Head monitors
Annular BOP
Fishing Tools
Back Spins Tools
Floater units available
Frequently asked questions
CLICK BELOW TO REVEAL COMMONLY ASKED QUESTIONS